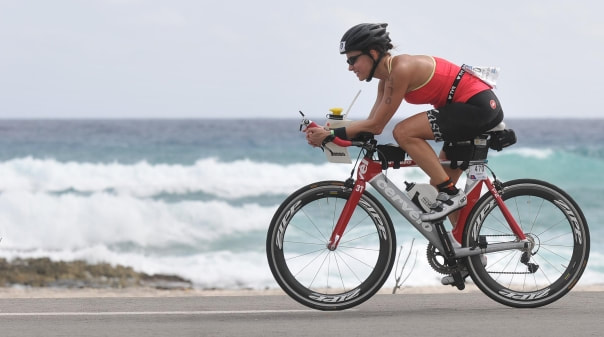 Hydration is a real headache, let's try to understand how it works. I notice in the race that if you wait to be thirsty in hot weather, you will not go far !!

In the course of a race, Trail and any prolonged physical exertion, you will know the effect of "sudolar thermolysis": by evaporation, your body will lose large quantities of water and mineral salts (notably sodium NA +, Cl- and potassium K) without causing a rapid reaction of your brain dehydration lying on you without you being fully aware of it, good when you still have common sense sometimes it happens.

Nevertheless some recent studies show that your body is able to adapt better than some specialists think with the training.

On the other hand, trying to overcome this delay in the onset of thirst can lead to a tendency to over-consumption, leading to an opposite effect, but equally dangerous: hyponatremia! (For dull, sodium concentration in blood plasma (sodium less than 135 mmol / l) lack of sodium being one of the components of salt)!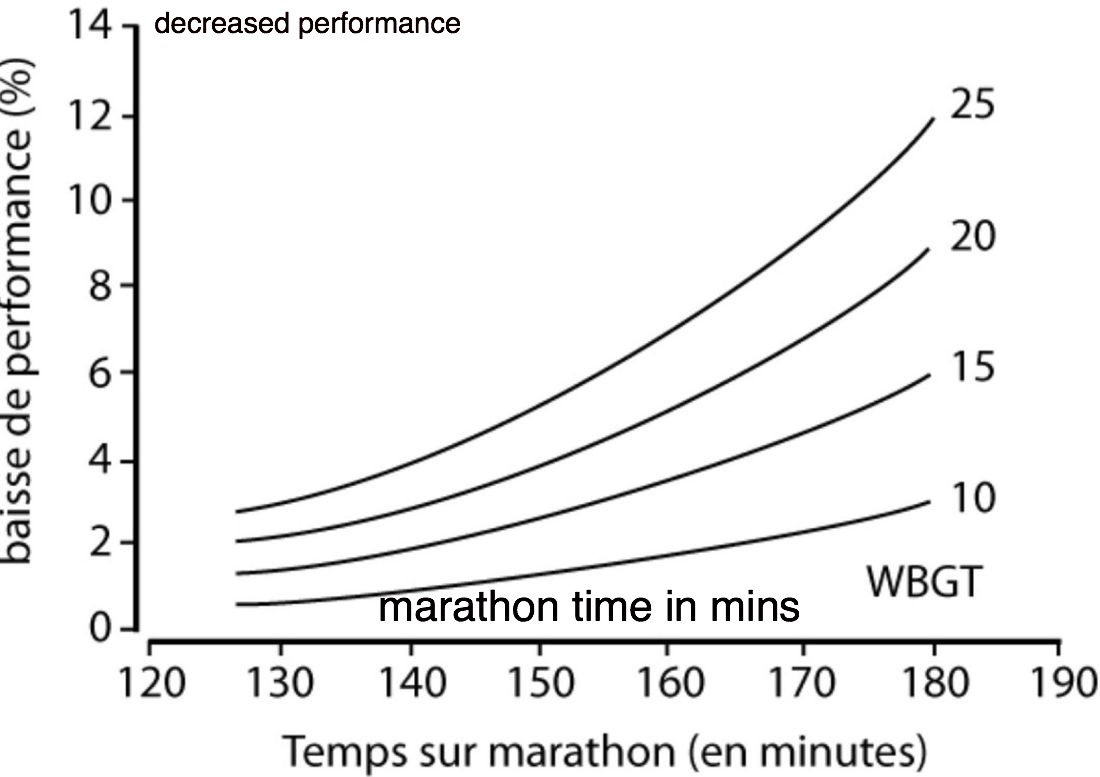 Dehydration will cause the installation of a state of "hyperosmolar hypovolemia" plasma stuff nearly of sci-fi! I will not go any further.
That causes two reactions in your body:
* A gradual increase in your heart rate despite a steady effort. Dehydration will limit your blood pressure and therefore the influx of blood to the heart. In order to keep the flow of blood to the heart at a sufficient flow, it will increase its pumping frequency. The result: early fatigue.

* A reduction of the sudoral flow and the cutaneous blood flow: this has the consequence of considerably limiting the efficiency of the thermolysis processes which prevents an overheating of our body. The resultant hyperthermia is a major impairment of performance and will increase your dehydration level.
In summary, poor hydration will cause a disruption of your body.

This brings us to consider the heat and moisture for hydration.

The graph , taken from a study by Ely et al. (2007), shows the decline in performance as a function of time put on marathon with different climatic conditions. The WBGT index does not correspond directly to the temperature but incorporates several parameters such as temperature of course, but also moisture, solar radiation, or wind.

What we are interested in is the impact of heat on performance in running. The higher the WBGT index, the warmer the climate. We note that the best marathon runners (around 130-140 minutes) are little touched by the heat. On the contrary, a rider in 3h00 like me can see his performance dropped by more than 10% in difficult conditions.
There is clearly a decrease in marathon performance (vertical axis) whatever the final time. Quite logically, the decline in performance is all the more marked as the conditions are difficult (the WBGT index of 25 corresponds to the most difficult conditions). However, the slowest riders are the most affected by the decline in performance. Thus, the fastest riders do not lose more than 3% compared to their performance in cool weather. On the contrary, a rider who lasts 3 hours in normal time can lose up to 12% in hot weather, over 20 minutes! Establishing a personal best in hot weather is a challenge, I'm afraid that Nice will be disappointing on November 5!

So:
- the slowest runners spend more time exposed to heat.
- the fastest riders are physiologically better adapted (trained) to the heat.

Warm-weather training improves thermoregulation processes, resulting in reduced muscular and cardiovascular work for the same intensity.

The body adapts to limit the effects of heat. Thus, researchers [Buono et al. 2007] measured a decrease in heart rate of 18bpm and 0.6 ° C of body temperature for the same exercise after a 10-day acclimation period in 8 volunteers. The decrease in heart rate would be related to an increase in the volume of blood plasma. Thus, Lorenzo et al. (2010) measured a 6.5% increase in blood plasma after a 10-day acclimation period in 12 cyclists. In addition, performance was improved by 8% in a warm environment (38 degrees), but also by 6% at a cooler temperature (13 degrees), while the control group that continued to train under normal conditions did not given its improved performance.

Acclimation to heat during training also reduces the thresholds for sweating and vasodilatation.
And therefore less salt losses